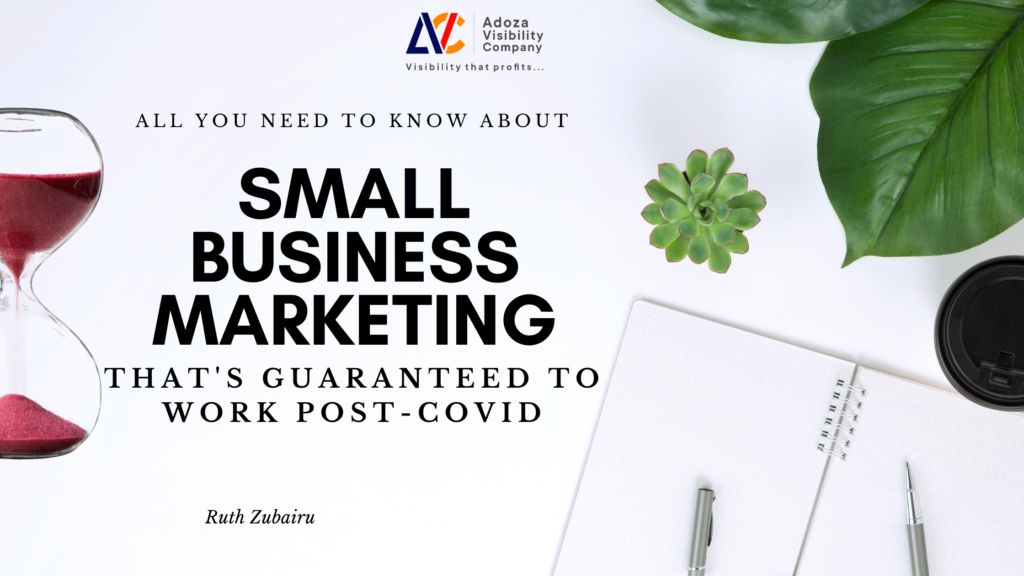 Ouch.
Small business marketing can be like a complex dance routine.
Ever seen amateurs dance?
Someone is definitely going to have a misstep and either cause an injury or be injured.
This is the ordeal most small business owners go through when trying to market their business online.
They either incur unnecessary cost when trying to DIY, do too much too soon or spend hours creating content that speaks to everyone without results.
All that changes today. This post will show you all you need to know about small business marketing and what you can do today to move a step closer to having the business of your dreams.
As you read this post, I'd like you to grab a sheet of paper and write down three things; what you need to try, what you need to delegate (or outsource) and what you need to review.
You might be tempted to add more but remember to keep it short and simple (KISS).
Ready?
Let's go.
Small Business Marketing 101- First Things First
Your Audience is NOT everyone
Know who they are, where they hang out and what they are looking for. This will help you craft your message to align with how they consume content. You will also know how to create products/services that solve a pressing problem for them.
Your Ideal Avatar
This can also be called your ideal client or your customer avatar. It describes an imaginary or real person who is the best fit for your product/service. This person has the problem you want to solve and also is able to afford to pay for the solution. It usually includes age, sex, race, educational background, social/political interests, hobbies, spending habit, etc
This will help you create specific small business marketing content that makes them stop scrolling on social media and leave a like, comment or send you an inbox message.
Small Business Marketing Strategies: What You Sell VS Why People Buy
Clients have deep desires, wishes that they long to be fulfilled and are frustrated with certain areas of their lives/businesses and can't wait to get it resolved.
In your small business marketing, you need to recognize what that cry is and how to position your product or service to solve that need.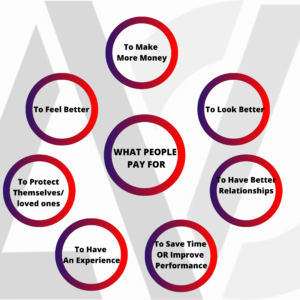 Here's a summary of why people buy
To make more money – tools, products, services that will help them make money will be seen as an investment as they believe it will bring more returns on the money spent. Small business examples in this category include retail ventures, merchandise, or certifications or training programs designed to give leverage and increase earning power.
To feel better – Small businesses in the health sector explore this obviously. Others include those who sell household furniture like mattresses and beds, etc Any product or service that can increase the dopamine level for your target audience will feature here (the feel-good hormone in the body that generates feelings of pleasurable sensations)
To look better – Small businesses in the fitness and beauty industries can speak to members of their audience who value their appearance. Anyone who is self-conscious about their body parts or features, will justify every purchase made.
To have better relationships – Therapists, life coaches, who help families to communicate better with themselves are in this category.
To protect themselves and their loved ones – When it comes to life and safety, many people will not mind the cost. So if your products or services will help your audience protect themselves better, then you have a reason to ask for the sale.
To save time and/or improve performance – In carrying out work processes, results are produced as a combination of how much effort is included and how long it will take. So tools, products, services that can reduce the time spent or improve the quality of work done will be largely appreciated.
To have an experience – There is a reason why luxury items or services sell. Statistics show that in 2017 the personal luxury goods market experienced worldwide growth and reached a record high of $307 billion in sales. And this number continues to rise. For some people, exclusivity is a premium they will gladly embrace.
So knowing the reason that drives each person to buy can help you craft your messaging in order to promote your product/service.
Small Business Marketing Plan – Your Map in the Maze
Your small business marketing plan is a simple guide that shows your business goals, where you are right now, who your prospects/clients are, what their needs are, what products/ services you have created to meet those needs and how you are using content and other marketing tools to achieve your marketing goals.
You can change this per quarter or annually depending on how you choose to serve the needs of your audience.
Types of Business Goals
Having specific business goals for each month/quarter is because it is what influences the services/products you actively advertise and what content you create in order to market those services.
Examples of business goals are:
Increase brand awareness – the more people know about your business, the higher the possibility of buying.
Increase sales: The small business marketing plan will identify which product/service generated the highest amount of revenue and how to increase its promotion. It will also include the cart abandonment followup strategy, how to generate new leads, and trigger repeat customers.
Retain customers: Statistics show that repeat customers spend 33 percent more than new customers. Small business marketing strategies here can either be to upsell or cross-sell to the customers.
One rule of thumb is that your business goals must be SMART. They must be Specific, Measurable, Achievable, Realistic and Time-Bound.
The more specific the goal, the greater the chances of hitting the milestone.
Examples of Smart objectives for a business
Small Business Marketing Budget Tips You Should Know
What you do not plan for, you cannot demand results from.
Your small business marketing budget will outline the cost of how you will execute your marketing plan.
Tips to help you create an actionable budget for your business
Know your goals and break it down in numbers. In order to grow you must act based on facts not assumptions. Identify what your goals are and what it would cost you to achieve them.
Identify what you can get for free (or at a discount) Some tools, software have more affordable options. So do a comparative analysis of the different marketing tools you will use and then make a choice on what works best. Some offer a discount on annual purchase rather than monthly.
Identify people/relationships you can leverage. Usually if you have a personal relationship with people in media, or have influencers as friends, you can get discounted rates in promoting your business on their platforms.
Identify competencies. It wouldn't make sense to hire out a job if someone can get it done in-house. In other cases, it would be more cost-effective in the end to outsource because of the greater return on investment.
Consider your growth plan. Do you need quick results or do you have time to groom someone to grow the competencies? Your growth plan will impact the measures you put in place to execute the plan.
Consider current trends in the market and in politics. This can help you avoid losses of time and resources.
Never base your marketing budget simply on what's leftover after covering all other expenses. A small business marketing budget should be seen as an investment not as a cost, as it carries the responsibility of bringing in a quantifiable return on investment.
Marketing your Business Post Covid
Covid19 is a major disruption in the way life and business happens. And to ignore this in your small business marketing strategy is to set yourself up for failure.
No one saw the pandemic coming. Especially the way it did.
With the widespread outbreak and its devastating impact, countries have had to impose lockdowns and travel restrictions both interstate and inter-country travels.
This led to a partial shut down of many businesses, or in some cases, a total shut down.
So what should you do to keep your business afloat in this era? How can your small business marketing continue to still promote your products/services and not go under?
You must COMMUNICATE.
In communicating clearly to your audience, you should remember to:
Foster loyalty
Make pivots (Changes)
Collaborate
Foster Loyalty
Your small business marketing strategies should be targeted at building a stronger emotional connection with your audience. This can be done by sharing how your business is responding to people affected by COVID. Or how your business is handling staff engagement/retention during this period. It is important that they see your business as being concerned about their well-being not just about their money.
Amongst 28 companies listed by BarBizMag, Breakthru Beverage Group announced a $500,000 commitment to partner with local nonprofit organizations, restaurants, and restaurant groups to purchase meals for front-line responders battling the COVID-19 outbreak and vulnerable populations affected by it, such as children and the elderly.
This is a response that will endear them to their customers, help them expand their audience and generate goodwill for their brand.
Make Pivots (Changes)
It is also important to make changes fast. Your products/services might go through a pivot as a result of the business projections post-covid.
BBC featured stories of businesses making such pivotal changes. A London-based boutique liquor brand 58 Gin switched up their production from liquor to producing large batch hand sanitizers.
According to the distillery's managing director, Carmen O'Neal, "we suddenly had a business with no customers or income – and if we didn't do something and do it very quickly, we'd also have no business".
Another example for service-based businesses is what Neil Patel did with Ubersuggest – An all-in-one SEO tool. He decided to open up more of the premium features for FREE.
In his words
… my traffic started to go up on Ubersuggest the moment I told everyone that I am giving more away for free

Neil Patel
The common denominator amongst all these businesses is the fact that they adapted their small business marketing strategy to provide value for their customers in this pandemic and remain top of mind.
The strategy is not so much revenue generation but customer retention and lead generation.
Do not be afraid to try new things.
Your next big break might just be in the pivot.
Marketing Event Ideas for Small Business
Even though physical distancing will persist for a while, with time, people will create a new normal around events and you will want to be prepared when this happens.
Here are some marketing event ideas for your small business.
Virtual Reality Events
Virtual reality is a simulated experience different from the real world. They use headsets or multi-projected environments to generate realistic images, sounds and sensations that trick the user into believing they are physically present in the virtual environment.
Small businesses in the travel, education and entertainment industry can decide to use virtual reality to create experiences for their audience. A person using virtual reality equipment is able to look around the virtual world, move around in it and interact with virtual features or items.
These experiences can hold event-style where you have a specific number of people who will go on this virtual tour and create amazing memories albeit virtually.
Virtual Summits
Virtual Summits have been existence but with the turn of events due to the pandemic, they are the new norm.
Navid Moazzez has this to say:
Virtual summits are the FASTEST way that I know of to build a list of engaged subscribers who will become buyers.
In order to host a virtual summit, here are a few tips to note
What is the event about? Make it clear what people can expect from the event.
Why should people attend? There's a lot of noise out there – why is your summit different?
What will people get out of it? Show what people will learn and how they will benefit from attending. No need to tell tales. Brevity wins!
Who's speaking? Brag about the big names that you've confirmed to speak on the event and what topics they'll be covering
This is a great way to generate new leads, build a loyal tribe of followers, establish your authority, connect with influencers in your niche and multiply your income exponentially.
Your virtual summit will attract the right kind of audience when you are ultra-specific about the summit and what the audience will get from it.
I have hosted multiple summits and can attest to this.
Online Auction Events
Auction events are a great way to create awareness about your products/services as well as generate revenue. With the decline in hosting physical meetings, hosting an online auction is the next best thing.
It affords you the opportunity to create a fundraising event conveniently without all the limitations of preparing the venue, time, space and having a limited number of people in attendance.
Like every other small business marketing strategy, ensure you spread the word using social media, traditional media, email marketing and direct messaging. You want to ensure that all your sponsors and bidders are aware of the date and time and are primed, ready to go!
Online Marketing for Small Business: Inexpensive Marketing Ideas You Will Love
Small business marketing ideas are so diverse that it can be paralyzing trying to do all at once at the same time.
Remember, you are in business for the long haul.
Some of them you can actually do yourself, others you might require assistance or get a small business marketing agency to do it for you.
Google my Business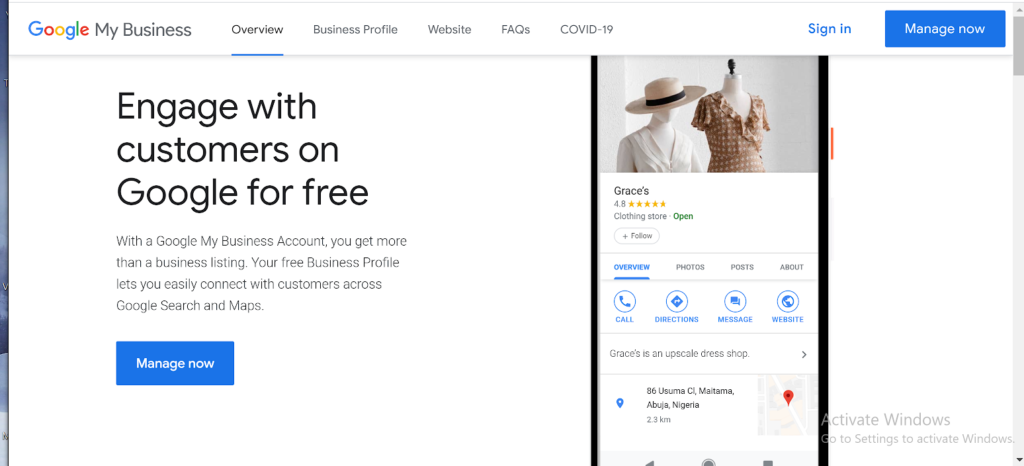 With a Google My Business account, you get more than a business listing. It gives you a free profile that helps you get found by customers/clients around your locality using Google Search and Maps.
You can upload photos and videos of your products/services, create offers and have customers reach out to you via phone or visit your store/office straight off of Google. .
Your customers can also leave reviews/testimonials there which will further increase the traffic to your site and consequently, lead to more sales of your products/ services.
If Google were to run FREE ads for you, this would be it!
If you need help setting this up, click here.
About.me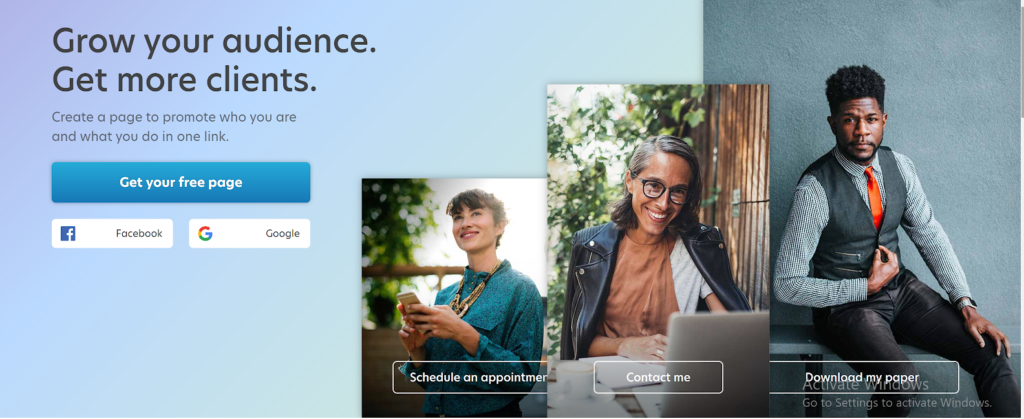 For creatives like photographers, video editors, personal brands, small business owners like craft sellers, etsy shop owners, about.me provides the perfect online visibility platform with a very low barrier to entry.
The free option gives you the opportunity to upload your headshot image, a brief description of what you do and the services you provide. You can have links to your products, books or services/portfolio.
This can be valuable for those who do not have a website yet and still want to position themselves online for profits.
The beauty of having a page like this setup is that you can include it on all your social media platforms, add it to your email signature, and even send it to contacts on your phone.
Become an Influencer/Thought Leader
This might be the time to step out from behind the scenes and into the limelight. Becoming an influencer/ thought leader in 2020 is not as hard as it looks.
This can help you get on local media, expand into new markets, etc because of a shared interest.
Being recognized as an expert in your field is fundamental for establishing credibility. In fact, according to research conducted by LinkedIn and Edelman, 60% of decision makers said thought leadership convinced them to buy a product/service they weren't previously considering.
To become a thought leader/influencer:
Find a niche and choose your social channels
Find a target audience and create ultra-specific content for them
Have a powerful message/distinct story
Be consistent and authentic
Use outstanding images and videos to 10X your marketing efforts
Build a sense of community and tribe outside social media (email list)
Network like a superstar
DJ Sobanjo shares in this insightful post how you earn the love and respect of your followers.
Remember, the goal is to build a long-term relationship with them.
Blogging – an Under-Rated Small Business Marketing Strategy
According to WordPress, every month, more than 409 million people read over 23.7 billion blog posts on its platform. That's a lot of content, so in order to stand out, you're going to have to be strategic. Here are some types of posts that perform excellently.
How-tos and Tutorials – They show the reader a step-by-step guide in achieving a goal or addressing a pain point. They help you establish your credibility and expertise. https://smartblogger.com/how-to-start-a-blog/
Listicles or List posts – They trigger curiosity and give the reader bite-sized information they can quickly implement. Examples include 11 Ways to Train your Puppy, 101 Books Every Entrepreneur Should Read, etc Elna Cain's post 25 Online Editing Jobs to Make Money at Home for Beginners is a perfect example.
Resource guides – these are super valuable information especially in your industry. The fun thing about this type of post is that you don't have to write it yourself. It can be curated. You just have to link to the corresponding article and credit the owner. For example, 29 Social Media Tools Recommended by the Pros
Checklists/Cheat sheets/ To-Do lists – this promises at a glance information that solves a problem. Super valuable for your audience as well. So keep it brief. This type of post can be repurposed as a lead magnet for your marketing funnel.
Interviews – Your guest can be an influencer, a past client/customer or a group of thought leaders/experts who give their expert opinion on a topic. People love interviews because we all love the inside scoop!
Interviews also help you to expand your reach especially if your guest has a large following. When they share it, you can expect a spike in traffic to your blog.
Blog content format can be text, audio (podcast with show notes) or Video posts.
Trying different formats can help you learn more about how your audience prefers to consume content so you can do more of what works.
Blog Commenting
This is a quick way to get attention from top bloggers and industry leaders in your niche. Leaving comments on blogs is a great way to exchange ideas, thoughts or opinions about what people feel for a particular topic or a blog post. Blog comments help the blog to attract traffic and makes it social.
As a business owner, leaving comments on blogs helps you share your expertise with those in the industry. You are quickly recognised and respected for the insights you share.
A good comment contains the following elements:
Friendly greeting – Saying hello opens the door to more conversation.
Sincere compliment – you love compliments, so does the writer! Be generous with it.
Add Value – say something insightful, entertaining, or ask a relevant question
Parting Promise – you can end the comment with a promise to share.

Why is blog commenting listed as a small business marketing tool?
When you comment on most blogs, your name/business name is shown, as well as a link to your website/landing page.
In order not to show up as a faceless and nameless entity, create an account with Gravatar. Whenever you leave a comment, it pulls up the profile you have created and posts it along with your comment.
Voila! You have more traffic to your website.
Podcasting
This is a great way to build an audience or a tribe. Sharing great educating content around your business topics, or going into influencer mode, sharing yourself via audio will bring you a little closer to your audience and build the Know-Like-Trust factor for you.
You can form collaborations and get sponsorships for your business.
Because it is convenient to listen to, you can quickly connect with your audience wherever they are.
Podcast channels include the Apple itunes store, Spotify, Anchor fm, buzzsprout, podbean, etc
If you're looking to learn financial freedom, legacy and culture from top innovators, entrepreneurs and creators in the US, UK, Caribbean and Africa, then the Better with Paul Podcast is a must-listen.
Interested in business podcasts? Here are some amazing business finance podcasts to follow this year.
Youtube Marketing
With Google as first, YouTube sits securely as the second largest search engine as statistics show that 8 out of web users watch YouTube videos. Creating YouTube videos for your small business can remarkably improve your SEO and overall online visibility. With every YouTube video viewers watch, you can direct them to your website with a click or sell a product or service to them directly.
Types of content you can create for your small business include testimonials, behind-the-scenes clips of your product creation, demonstration of product use, thought leader interviews and FAQs (Frequently Asked Questions).
To open and run a profitable YouTube channel see HubSpot's guide.
The plus side to growing your YouTube channel is that when you have over 1000 subscribers and 350,000 watch minutes, you will be eligible for YouTube's monetization program.
How sweet is that?!
PPC Advertising
PPC stands for pay-per-click, a model of internet marketing in which small business owners that advertise pay a fee each time one of their ads is clicked. Essentially, it's a way of buying visits to your site, rather than attempting to "earn" those visits organically through content.
It works just as auctions. You place a bid in a search engine's sponsored links when someone searches for a keyword related to their business offering. You pay a fee when each ad is clicked.
Social Media Marketing for Small Business
Instagram Marketing
Statistics show that Instagram has an active user base of 1 billion people. It has transitioned from just being a platform to share pictures and videos with friends and family, to be a powerful tool for small business marketing.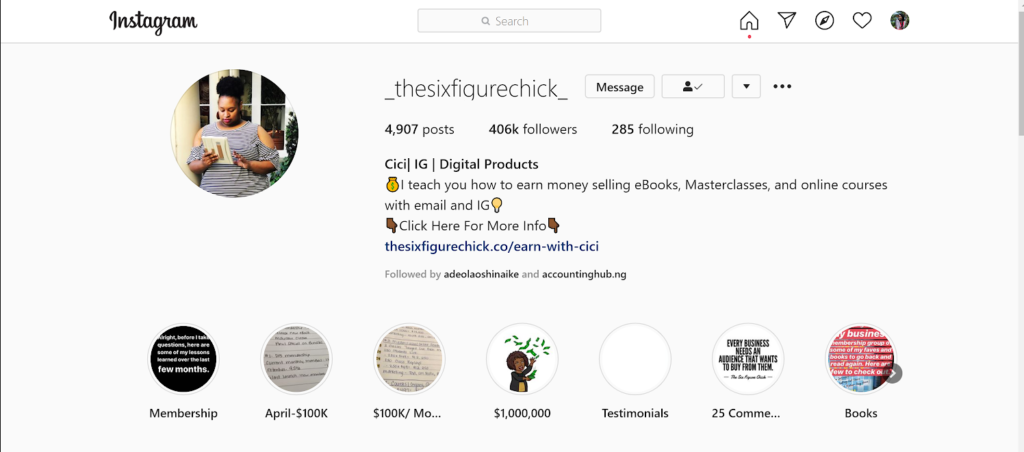 With instagram, you are provided a bio where you can write a brief description of who you are and how you help your audience. Remember to be specific.
With the highlights section you can include testimonials, product demos, or special offers.
Instagram gives you the opportunity to have just one link in your bio so many business owners use this link to send people to a page with multiple links. This can be a customized page on their website or using the linktree tool.
Facebook Groups
To generate leads from Facebook groups, you either have to own one or belong to one. Strategy hinges largely on providing valuable content.
Facebook groups grow on engagement. So if you want to open a Facebook group, ensure that you are prepared to share engaging content and be prepared to answer questions.
Most businesses use Facebook groups as a way to get feedback and build a community around their products or services.
The Facebook group can be free or paid depending on your objective for opening a group.
WhatsApp marketing
Your job as a small business owner is to make it easy for your customers/prospects to reach you. And this is why WhatsApp marketing is growing.
With the turn of events, many more people are on their phones and WhatsApp is a major social media app that most users are active on. The key is to go where your audience is. And if your audience is in a demographic that uses that platform, you should figure out creative ways to educate and engage them while promoting your products/services passively or actively.
You can have a direct link from your website/Social media platforms that give people a direct link to connect with you on WhatsApp.
You are able to build a more engaged list on WhatsApp, if you explore this option.
Facebook Messenger ChatBot Marketing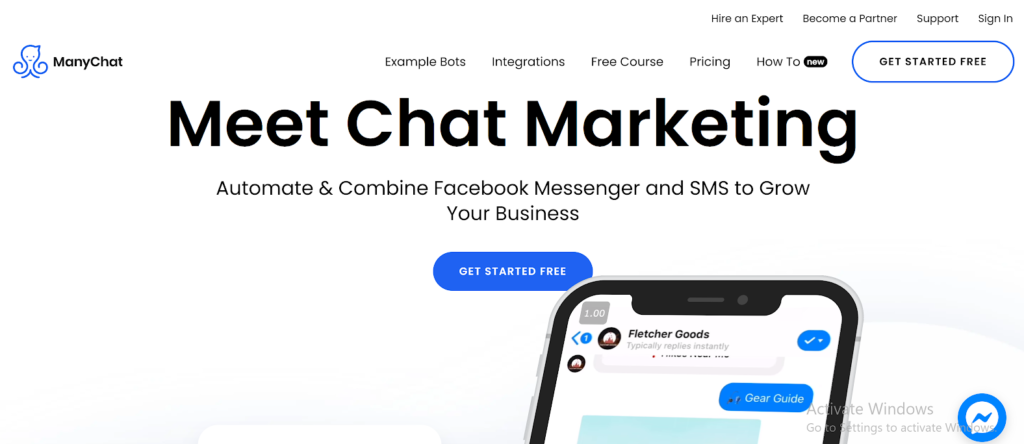 Many people in your audience already have a Facebook account so it might be easier for them to send you a direct message via messenger than for them to fill out a feedback/complaint form on your website.
You can have a customer representative handle enquiries and respond appropriately.
Tools like Many Chat can help you automate this process. The delivery can be customized so that responses are not canned and unfeeling.
When your chatbot is conversational, it can be instrumental in guiding your customer from being an interested prospect to eventually taking action in purchasing your products/services.
Small Business Marketing Ideas that Make a Difference
For small business owners, there are little (but not so little) things that make a difference to the customers. The more you stand out (in a good way!), the better your chances are of getting repeat transactions.
Here are a few small business marketing ideas you can quickly implement.
Branded merchandise – You Know It When You See It!
Your packaging should show that you put some thought to it. Get branded boxes and carrier bags for your products. You can also have other merchandise that you either sell or give away that bears your business name and probably something fun or inspiring.
Contests and Giveaways
Contests and giveaways are often used to reward purchase or engagement especially on social media. It may cost you giving away a product or two away, but the returns are usually more than the investment. When customers feel appreciated, they are likely to tell their contacts about your business and that's free marketing!
Hold Classes
Depending on the nature of your business, you might be able to host specialized classes (physical or virtual) that teach/train your audience on a particular subject matter.
When people learn from you, they are more inclined to buy whatever you recommend at the end. This is the principle that makes webinars work.
Start/Join a Movement
You can start a movement especially if it aligns with your core values or the reason why you are on business in the first place.
You can latch on trends to show another side to your business. An example is the Black Lives Matter, Educate a Girl movement.
Local Marketing Ideas That Are Fun to Execute
Wall art
This can be both inside your office/business space or outside for the benefit of the community. These wall art can include inspirational quotes, the painting of a local town hero, etc . It will add to the ambience of a street or the centre of town and have your business logo displayed alongside.
Street Carnivals
You can either sponsor or collaborate with other businesses to host street events. When people watch events like football shows, they see the banners of their sponsors. You can decide to sponsor small events like this and put your business brand in front of your local audience.
Small Business Marketing Automation Tools (Many are Free!)
Small business marketing automation tools are tools that help you reduce the time you spend in carrying out these processes or help you perform them more efficiently.
Communication – Email marketing tools can help you not only send broadcast messages or newsletter but also send behavior-specific email based on how a person interacts with your content or advert. MailChimp, ActiveCampaign, ConvertKit are some examples.
Appointment Scheduler – Bringing automation to scheduling appointments, people can quickly go from content/your bio to booking an appointment with you within minutes. With the integration with Google calendar, it is easy to see at a glance what appointments you have so you can prepare. Examples include Calendly, Acuity
Customer Relationship Management (CRM) – A CRM system helps companies stay connected to customers, streamline processes, and improve profitability. Examples include HubSpot, Sales Force
Payment – You can literally sleep and wake up to money in the bank when you set up automatic payment. Platforms like PayPal, Stripe, etc help facilitate that by integrating with landing page softwares like Thrive pages.
Zapier – This is an app that integrates with other applications in such a way that it automates repetitive tasks, allowing you to focus on other work. This includes things like delivery of digital products and shipping scheduling.
Scheduling content – For your content to grow your business, you need to be consistent. Tools like Hootsuite, Buffer, Facebook Creator help you schedule your content and post it for you as and when due, serving your audience without fail.
How to Measure ROI of Small Business Marketing
In small business marketing, you will make investments of effort (yours or that of your team), time and money. You should be able to measure your success every month, quarter or year. Here are some things to note.
Website/Digital Marketing
How many site visits do you have per month?
How many leads are you generating per month?
How many of the leads convert to sales qualified leads (SQLs)?
What's the cost of generating these SQLs? (e.g., website development, outsourced content creation, Pay-Per-Click, time spent by marketing and/or sales to nurture these leads, etc.)
How many leads convert into opportunities?
How many of those opportunities close as new deals?
What's the typical value/revenue of a new deal?
Social Media
What are vanity metrics?
What is your engagement rate on social media? Number of likes/comments/shares?
How do you track mentions?
What platforms account for the highest contribution to the overall revenue?
Check goals and track achievements. Rinse and repeat. Do more of what works.
Your Small Business Marketing Strategy is a Dance Not a Flight
Take the sheet of paper you started with and write out the three things; what you need to try, what you need to delegate (or outsource) and what you need to review.
This should help you come up with a smart small business marketing plan for your business.
No matter the strategies you choose to implement, remember your small business marketing strategy is more like a dance. The more you do it, the better you will get at it.
As you implement these strategies, you will get to discover which strategies work best for your business. You then rinse and repeat. Do more of what works.
Before long, you will be riding the waves of business with a growing tribe of happy clients and customers all year long.
Got value? Don't keep it to yourself. Share this with your friends. You never know whose business will not only survive but thrive because of this!