A Practical and Complete Guide for Using Influencers for Online Marketing
Introduction
Know it or ignore it, Social media has been one of the greatest inventions of our generation. Social media influences and shapes our buying decisions. Evolving and innovative business owners are taking a plunge in the market to increase their business profit and reach. According to Shopify, 61% of consumers trust the recommendations of influencers when making a buying decision. In this post, we would share insights on influencer marketing, the benefits of leveraging influencer marketing, the types of influencers and their pros and cons, the dos and don't, or influencer marketing.
What is Influencer Marketing?
Influencer marketing according to Influencer Marketing Hub is a hybrid of old and new marketing tools. It takes the idea of celebrity endorsement and places it into a modern-day content-driven marketing campaign. Brand leverage on the influencer's community to build or increase visibility, engagement, and sales depending on the goal of the influencer marketing. 
 Let's define an influencer as a person who has built a reputation and garnered an audience to like, know, and trust them in a particular niche or industry. They can be termed online celebrities with a huge following depending on their level of influence. They, therefore, work with businesses or individuals and get payouts for endorsing the brands. The payouts can come in cash, products, or discounts depending on the agreement of influence. 
4 Killer Benefits of Influencer Marketing
What is the rave about influencer marketing? Forbes in this video shares why brands should use influencer marketing.
https://youtu.be/yaDgaRI79YEInfluencer Marketing: why brands are choosing to work with them
Well, we would highlight some of the benefits of having an influencer marketing campaign below.
Increased customized reach
 Imagine your product or service in the face of new audiences. When working with an influencer, you are opening up your brand to their audience giving you the increased reach you cannot organically reach without their influence. They can typically help you reach a wide audience or specific people depending on your goals. They can help you reach potential clients who pay a premium to block ads.
Increased engagement
 The purpose of the campaign can be to increase engagement, hence the influencer can persuade their followers to engage on your page and interact with your brands. This will in turn increase your engagement and open up your band to new audiences.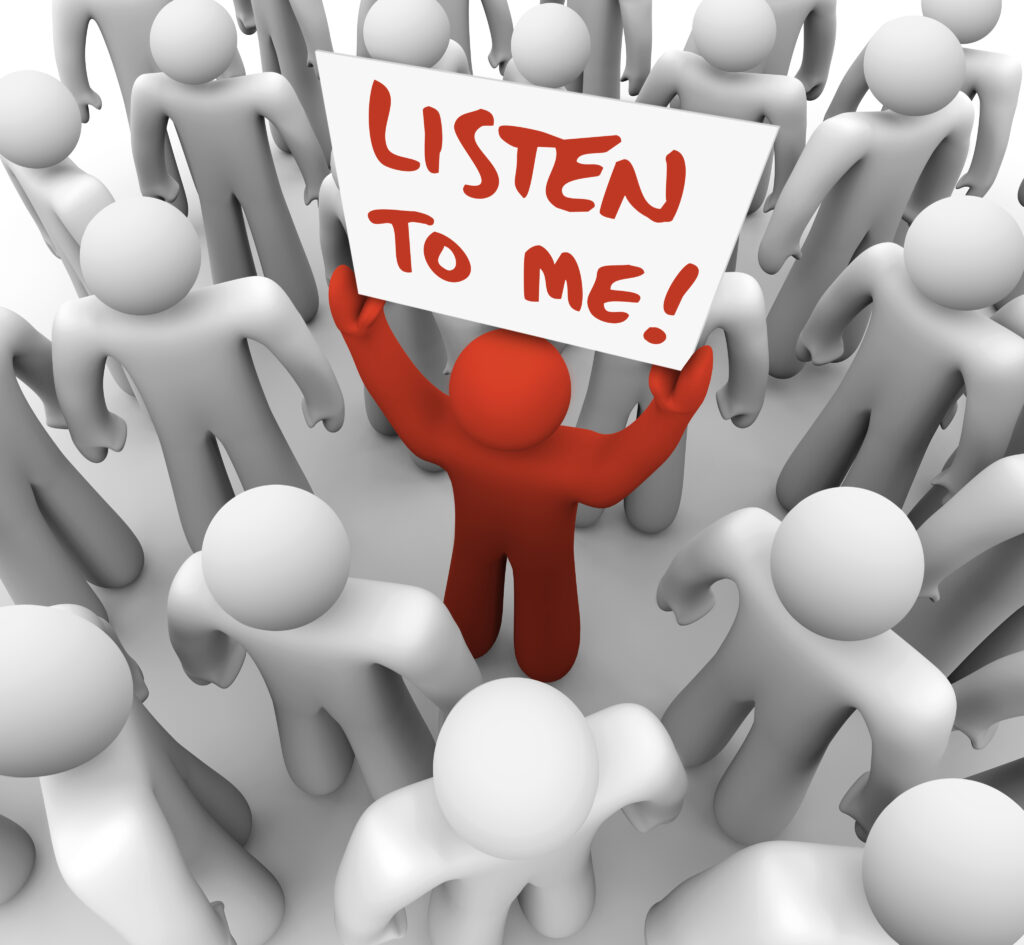 A lone person seeks to inform the crowd of people around him of some important information, raising a sign or placard that reads Listen to Me in hope of grabbin
Increased trust
Influencers also help brands to deepen their relationship with their customers.  Through an authentic presentation of the brand by the influencer, the audience would most likely connect the brand to the influencer and extend that trust and relationship. That is why it is imperative that the brand and influencer values, audience, and industry match for effective trust.
Increased sales
 Another benefit of engaging an influencer is getting higher earned media value(EMV) which refers to return on investment( ROI). Influencer marketing when done right puts your products or services in the face of potential customers and clients which usually results in sales.
7 Major Platforms for Influencer Marketing
Instagram
This platform is the most popular for influencer marketing. It is useful for brands in lifestyle, e-commerce, photography, and business that require aesthetic social validation. Great for brand positioning, audience engagement, and drives to links and swipe-ups. Instagram influencers like Toke Makinwa, and Jennifer Lopez. etc.
Facebook
This is another platform with large users. It is best for audience building and great for reaching older audiences. It is a great platform for industries in real estate, parenting, news, education, business, etc.  Facebook influencers like Ken Erica Ugo
YouTube
This is a platform that is best for long-form educational content and storytelling. It can be used to sell high-value products, research buys, and build. Influencers like Marques Brownlee who creates tech-related content, Shawn James, Alissa Ashley, etc.
Tiktok
 This is a good platform to target Gen Z and the age range below 35. It is perfect for collaborations and brand awareness. It is suitable for those in the comedy, fashion, food, and education industry. Influencers like KhabbyLame, Sabinus, etc.
Twitter
This is suitable to drive brand engagement and great for building conversations around niches like sports, news, education, games, etc. it is useful to target the male gender below 65. 
Pinterest
This is a platform you can leverage for visual inspiration and SEO brand positioning through influencer marketing. It is great for industries relating to fashion, interior decor, health, etc.
LinkedIn
A great platform to promote topics relating to career and expertise in business to business communities. 
5 Types of Influencers and Examples
There are different kinds of influencers and we would be exploring how to identify the kind of Influencers, the pros, and cons of working with any of them, and examples of influencers who fit into this niche. The examples of influencers that would be highlighted are not an endorsement but just for clarity purposes. We would be using the 5-tiers of social media influencers as follows:
Nano influencers
 These are some regular people who use social media and have a range of 1-10k followers. They are usually on social media to have fun and share a part of their lives without necessarily showing up to become influencers. They do not have a full-time jobs. Nano influencers like Feezah, Jenn Levitt, Carla Jian, etc.
Pros
They are affordable
They usually have more engagement and trust from their audience.
            Cons
They may not be professional in influencing your products
They have limited reach and visibility.
      2. Micro-Influencers
These are influencers with 10,000 to 100,000 followers. They account for 47% of social media influencers. People like Adetoke Oluwo, Josiane Konate, Aliyah Michelle.
          Pros
They have loyal followers who trust them hence they are a good fit if your goal is sales.
They generally have an engaged audience so they are also a good fit for a decent reach and visibility.
         Cons
They are more expensive than nano influencers.
They have limited reach and visibility.
Mid Influencers
There are influencers with 100,000 to 500,000 followers. They have a strong community of followers. HypeAuditor's report says they represent 26% of influencers. They are the second largest group. You would most likely have to go through their brand manager or representative to book them for an influencing gig. They are usually selective of the brands they promote to protect their reputation. Examples of influencers here are Diaryofanaijagirl, Gayle King, Luvvie, etc.
        Pros
They guarantee wider reach and visibility than nano and micro-influencers.
They are professional and deliver your influencing brief creatively.
       Cons
They are more expensive than nano and micro-influencers
They are not easily accessible and reachable.
      4. Macro Influencers
These are influencers whose followers are within the range of 500,000-1,000,000. They have usually been long-term influencers who have grown over the years. They have a lot of experience and know how to influence their followers and know what they want. They are great for collaborators and good for retainers to help build a brand image alongside theirs. Influencers like Mariam Musa, Courtney Black, Eni Adeoluwa
      Pros
they have a vast segment of followers and are great for niche based on influencing
They have massive reach and have a structured way of working with brands.
      Cons
They are expensive and usually take influencing as a full-time job
They usually have lower engagement rates.
      5. Mega Influencers
These are usually celebrities and stars even outside social media. They have over one million followers. They have massive followership and brands can hinge on their levels of influence to promote their products and services. Examples of influencers in this category are Don Jazzy, Kim Kadarshian, Sherlina, James Henry, Taaoma.
Pros
They are great for ambassadorship and collaborators.
They have loyal followers and impressive reach
Cons
They are not great for sales and engagement for most brands.
They are very expensive.
6  Dos of Influencer Marketing
For best results in maximising the use of influencer marketing, we suggest you follow through with the following Dos.
Have a Clear Goal/ Objective
Always know what you want before reaching out to an influencer. Do you want more sales, engagement, or visibility? Ensure you have a clear objective for influencer marketing.  However, it is advisable to communicate your goal/objective to the influencer and not restrict the creative flow of the influencer as they know the type of content their audience will warm up to.
Choose Relevant Influencer
We strongly advise you to research competitors' brands, trends, influencers, and social media platforms for optimum results. Research also on your brand and the goals to help match the influencer to be used. Not all influencers are suitable for your brand goals. Do your homework before you take the plunge.
Most brands just choose influencers based on the following count and cost without giving much consideration as to whether the influencer matches your brand goals. Does the influencer's personality match your brand's personality? Do they have your targeted audience? Do they fit into your budget? Can they meet your goals? Are they accessible? These are some of the questions you need to answer before choosing an influencer.
Have an agreement
There has been a ruckus on social media where unclear expectations have caused issues between an influencer and brands. It is pertinent to be clear on deliverables before signing a contract. You need to spell out your expectations and have determined and probable deliverables and agreement on the success rate expectations. 
Choose the right platform
 Where does your targeted audience spend the most time on social media? What age bracket is your audience? Who are the influencers they follow and listen to? You have to put your audience into consideration before you embark on an influencer marketing campaign. For example, business professionals spend more time on Linkedin, mothers spend more time on Facebook and Instagram.
Repurpose content
Also, influencers can be paid to create content solely for marketing purposes which you can run ads and promote on your page without restrictions. It is advisable to learn how to repurpose content provided by influencers for your brands even after your contract is over. You can also use it to suit all of the platforms your brands have a page on. 
5 Don'ts of Influencer Marketing
We have earlier mentioned some of the dos of influencer marketing. Now, we will look at some of the things you should not do. 
Not measuring Success
 It is important to learn what worked and didn't work while running a marketing campaign. Everything is a lesson so measure your progress on the campaign. Check if your goals were achieved. Measuring your progress will help make informed and data-driven decisions for subsequent influencer marketing campaigns.
Not thinking long term
 For an effective influencer marketing campaign, think long-term. The potential customer has to see the product or service at least 7 times before they make a buying decision. Also, the influencer's followers can easily predict it is an ad if it is not frequently talked about by the influencer. Sometimes, the follower may make a purchase long after the campaign is over. Think long-term to see optimum results.
Don't always be numbers-driven
 Followers' numbers do not equate to sales or engagement.  Likes do not equate to engagement. Many people make purchases without even liking the post or engaging in it. Though we do not infer that these KPIs are to be entirely ignored, they should not be the basis of choosing or tracking the success of the campaign.
Don't copy your competitors blindly
It is risky to engage in influencer marketing just because your competitor is using influencer marketing. No two brands her the same as there are various variables to consider before engaging an influencer. Is your brand ready image-wise, and financially to use an influencer? Ensure you have a clear why, how, when, and who before running a campaign. You can use metrics and data from your competitors to compare but not copy blindly.
Don't use only one channel
You should aim at using all the existing platforms of the influencer for maximum reach. Most influencers usually have a particular platform where they have the most influence but negotiate with them to use all their platforms as long as you have a robust budget. This would help your reach and overall success rate. Be clear on such terms.
Final Thoughts
We recommend you do your due diligence before jumping into influencer marketing for your brand and businesses. We hope you find this helpful. Do leave your thoughts, and questions in the comment section. Also, do not hesitate to reach out to us to help you choose an influencer that matches your brand goals and values, creates content of any form for your brand promotions and usage. You can shoot us an email at info@avc-ng